Are you a professional ?
As doctors, physiotherapists or osteopaths you may have patients who :
• See no more motor improvements
• Have recurring pathologies
• Could progress faster
These situations are often due to central origin motor inhibitions.
Allyane enables you to diagnose them more efficiently in order to treat them better.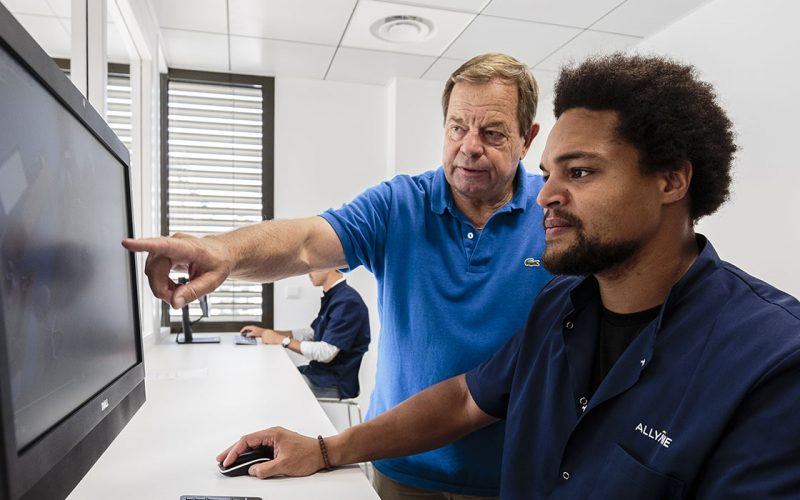 Allyane Method
The Allyane method is a solution for your profession enabling you to overcome rehabilitation constraints.
It acts for both common disorders (ankle instabilities, lameness, amplitude limitations of the upper limb,…) and chronic pathologies (stroke rehabilitation, multiple sclerosis,…).
 By combining proprioception, mental imagery and low frequency sounds, the Allyane method allows you to restore movement control for your patients having rehabilitation difficulties.
It is an innovative solution in its' effectiveness, rapidity and durability to optimize rehabilitation.
In this way your patients regain functional movement and everyday gestures.
Are you interested in Allyane?
Register for the Allyane course
Start with a course about motor inhibitions diagnostic to strengthen your analysis and adapt care of your patients in difficulty.

Refer your patients to Allyane practitioners
Some of your patients suffer from motor disorders and do not regain functional movement despite rehabilitation (post-trauma, stroke rehabilitation, post-surgery…) ?
Optimize your patients' motor gain in collaboration with certified Allyane practitioners.

Practitioners' testimonials
A new way of caring
I wanted to go further in rehabilitation care.
Blandin
Physiotherapist
A solution to save time in rehabilitation
This process is a new way of caring for people whose rehabilitation process is slowed down and also a solution to save time on long and difficult treatments, for instance retractile capsulitis. It is a new tool – what a tool! – to our therapeutic range.
Franck Archimbaud – Physiotherapist
Julien and Sandrine – Physiotherapists
"I discovered a way to remove rehabilitation barriers with the Allyane method."
"It is a significant advantage for our everyday practice."
Julien and Sandrine share their experience after a month working with the Allyane method in their office. 
 Any questions ?